10-year-old with autism arrested at Florida school
When John Haygood, a 10-year-old boy with autism, was arrested last week at a school in Florida, he kept repeating that he didn't know what was happening, as seen in shaky cellphone video taken by his mother.
"I don't know what's going on. I don't understand," he cried out. In the video, his hands are cuffed as two officers escort him to the back seat of a police car.

His mother, Luanne Haygood, followed behind them while recording the incident on her phone. In the video, John appears distraught, and yells some profanities.

Luanne is heard in the video speaking to the officers, "Excuse me, do you have any paperwork or anything you can say to me?"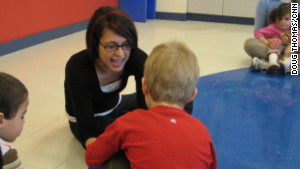 Autism Fast Facts
John, a student at
Okeechobee Achievement Academy
in Okeechobee, Florida, was arrested at the school lastweek for felony battery against a teacher in an October incident, allegedly punching and kicking his teacher, which left scratches and marks, according to an
incident report from the Okeechobee County Sheriff's Office
(PDF).
The incident occurred after John was being disruptive in class, throwing paper balls around the classroom and hitting other students, the report said. His teacher asked him to go to time out. When John refused, the teacher attempted to remove him, and that's when John attacked, the report said.
The report also noted that John had allegedly made threats to kill the teacher in a previous incident. On November 1, the teacher requested to pursue criminal charges since John "had been given plenty of opportunities to change his behavior and has not," the report said.
Autism spectrum disorder
is a neurological and developmental disorder that affects how a person behaves and interacts with others, communicates, and learns. Many people with autism, for instance, are
hypersensitive to and dislike being touched
, as well as might be upset by a slight change in a routine.
In October, John was expelled from the Academy and has been completing his schoolwork from home since then, according to
CNN affiliate WPBF
. Last Wednesday, he returned to the Academy to take a standardized test, but "was not being compliant and refused to test," the incident report said.
After John was given time to test, the arresting officer notified Luanne that John had an active warrant and had to be placed under arrest, the incident report said.
The arresting officer asked John if he would be willing to walk to the patrol car, and John replied, "Don't touch me. I don't like to be touched," according to the incident report. He can be heard making similar comments in the video.
John was then handcuffed and transported to a juvenile detention center, where he spent the night.
The next day,
John appeared in court on charges of assaulting his teacher
, was then released, and is now scheduled to appear in court again on May 11, WPBF reported.
CNN contacted Luanne Haygood about the incident and subsequent arrest, but has not heard back at time of publication.
"I know what happened six months ago," Luanne told WPBF when her son was released, admitting that she knew her son had an incident with a school staff member. But she added that she was never warned of any warrants for his arrest or imminent problems with law enforcement.
"I never seen an arrest report, I never saw the charges I just know what was told that he may or may not press charges," she said.
On Tuesday,
Luanne posted to her Facebook page
that she obtained copies of police records for John.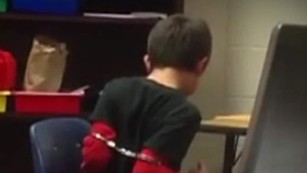 The handcuffed boy video: How to discipline children with ADHD
The school district sent the following statement to CNN in response to John's arrest:
"It has been district procedure to invite students in to take the Florida Standards Assessment. The district would not invite someone to one of our campuses for the sole purpose to arrest. The district routinely assists students by providing services from our board certified behavioral analyst, licensed mental health counselors, school social workers, and psychologists.
"As a team, these individuals develop interventions, conduct assessments, and offer support both at school and in the home in order to assist students and families.
"The district is unable to provide specific information as to both current and past incidents regarding this or any other student due to educational laws and rules. It is our hope that we can continue to work with all families to help their students improve both behaviorally and academically."
Ann Abramowitz, a professor of psychology at Emory University in Atlanta, with no firsthand knowledge of the situation, said the sequence of events didn't provide her with enough information to comment on John's incident. However, various students with autism tend to benefit from certain types of carefully planned disciplinary strategies, compared to other types of discipline.
Those strategies include maintaining a calm and orderly environment, maintaining a schedule for the student, and preventing any outbursts of distress, anger or aggression, she said.
"Keep kids engaged to prevent outbursts, because once outbursts occur, they can be very challenging to manage and can lead to situations where it exceeds the school's capacity to manage the behavior," Abramowitz said, adding that "I can't really think where being put in handcuffs would be helpful to a child, and of course it just seems intuitively obvious that it could be traumatic."